Apocalyptic Beauty: More Shadows and new items!
I hope everyone is having a great week!! It's almost Friday!!
I wanted to share some new shadows that I received from Apocalyptic Beauty!
I have to say that I am beyond impressed with the quality of everything that I have from this brand! I feel that alot of heart really goes into making these great products!
From the pigmentation to the color choices. Everything is so great!
Let's deep dive into the colors!
Heart Full of Napalm is a rust red-orange color with a shift and red sparkles. When applied wet, it darkens and the red sparks are a bit more noticeable
They're Coming to Get You, Barbara. This is one of my FAVORITE colors! I love the look that this has wet or dry. Great as a base color. slight reddish-brown but has an intense green shift with red sparkle.
No More Room In Hell is not a typical black. This one has a red undertone. This is great because when matched up with silver and gray, it won't turn blue on you. It also has a subtle bronze sparkle that adds a bit of glitz.  Great as an eyeliner!
Gimme Back My Hand is such a fun color! This rusty red-orange has a bit of a blue-green shift, Great for that 'dead eye' look. Paired up with a bit of gold and you have a great eye look!
Send More Paramedics is my favorite color of all time!! It's like what MAC Beauty Marked was supposed to be. Dry, this color is blackened purple with red and blue sparks. When applied wet, the entire color changes! You get more of the purple and the sparkles. Great alone but I LOVE it as an eyeliner!
He's Got an Arm Off is a beautiful red gold duochrome. When applied dry it can be subtle, but when applied wet, you get the full duochrome look.
*OTHER NEWS!!* Apocalyptic Beauty recently launched their line of liquid highlighters!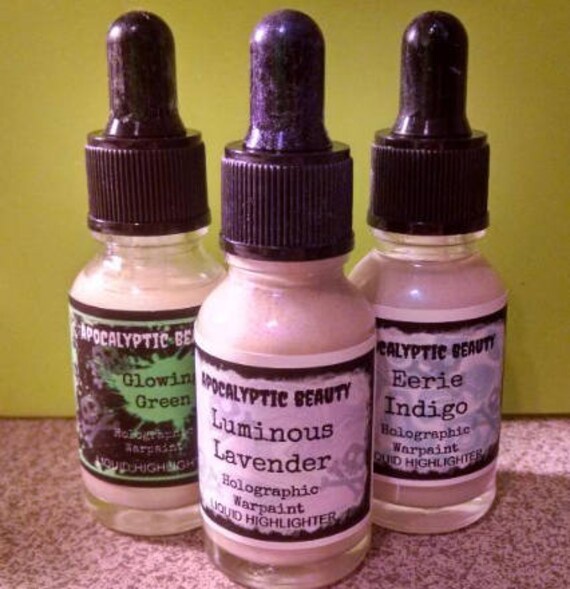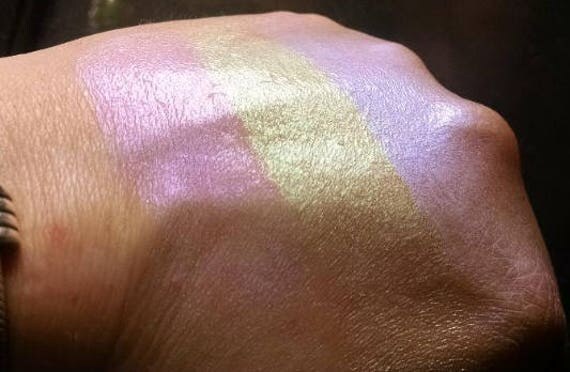 They come in 9 colors and look AMAZING!! I can't wait to get my hands on these!!
-Bronze
-Gold
-Rose Gold
-Champagne
-White pearl
-Pink
-Green
-Indigo
-Lavender
Click here to shop now and don't forget your discount! Use code NIGHTSHADE for 20% off your order of $10 or more!